Coats Corona Heiress – 2022 AQHA Bay Filly $5,000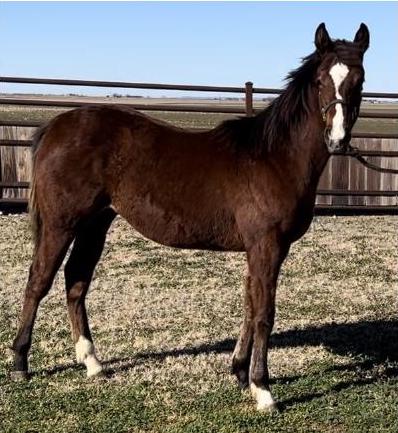 Super cute and gentle little bay filly. Very personable and follows you anywhere you want to go. Will load and unload out of a trailer. Has been worked with a flag in the round pen.
Eligible for: Royal Crown, Future Fortunes, Tomorrow's Legends, 5 State Breeders, Colorado Classic, VGBRA, Grid Iron, BRIF, Cornhuskers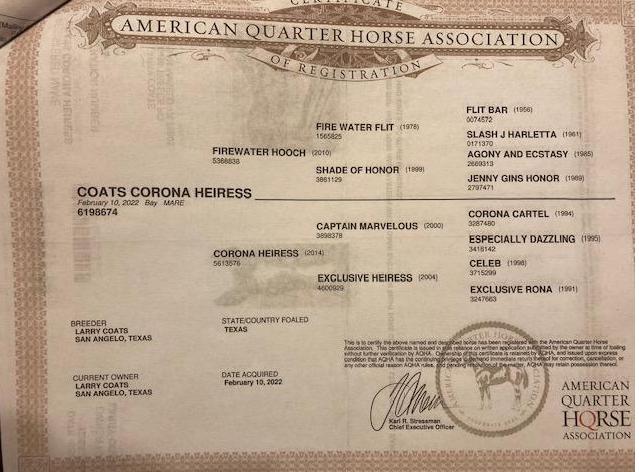 June 26, 2023
Not horrible for Corona's first time being ponied and Josie's first time ponying a horse that did not know what it was doing or if she should participate. 🤠

Corona has been out in the pasture, so this is okay but will get a lot better with more consistent training. 🐴

2nd time spraying Corona with fly spray and first time doing it right next to the hound dogs that just arrived last week at JJ Arena. She just got her feet done last Thursday, and was good for the farrier.

Corona was not 100% sure about going into the trailer since her last road trip was from Texas to Wisconsin this winter, but this is our raw video of going in and out 3 times. It could be worst, could be better. 😎🐴

Corona and Cash moving around in the outdoor arena.