JJ Arena is a horse facility offering arena rental for events and to train/practice with your horse.
JJ Arena is the place to ride your horse around obstacles and practice on dirt, with walls and panels in Balsam Lake, Wisconsin.
We also have horses for sale from time to time. 😉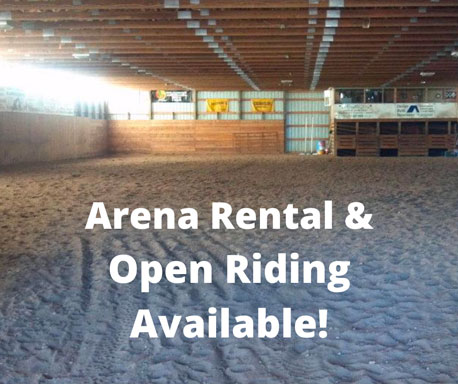 With your open riding fee, you have access to:
Barrels
Poles
Jumps
Horse Teetertoter
Roping Dummy
Pool Noodles
Tarps
Looking for a riding arena that you can rent for a day or a weekend?
JJ Arena has an indoor and outdoor riding arena in Balsam Lake, Wisconsin that can be rented out for horse shows, equine clinics, and more!
Open Riding is available seven days a week except when we have booked events on our Facebook events page.
Purchase an JJ Arena Open Riding Membership
Want to host an event or ride at JJ Arena?
Exclusive Arena Rent for Small Groups, Private Use:
Weekdays:
$80 per hour
$150 8 am to 4 pm
$200 for 4 pm - 9 pm
$250 per day - anytime for start and ending time
Weekends:
$150 per hour
$400 for 4 pm - 9 pm
$500 a day
$1,000 for the weekend (Friday thru Sunday)
Additional Options:
Stalls $30 per stall per day or $50 for the weekend
Electric Hookups: $30 a night for $50 for the weekend
If you prefer exclusive use of the arena please call or text 715-255-0449 and upon approval, we will add your arena event/booking to our calendar. Please check our Facebook calendar for availability/current booked events.