CashAFrenchCheck – 2016 Sorrel Mare – Great All Around Horse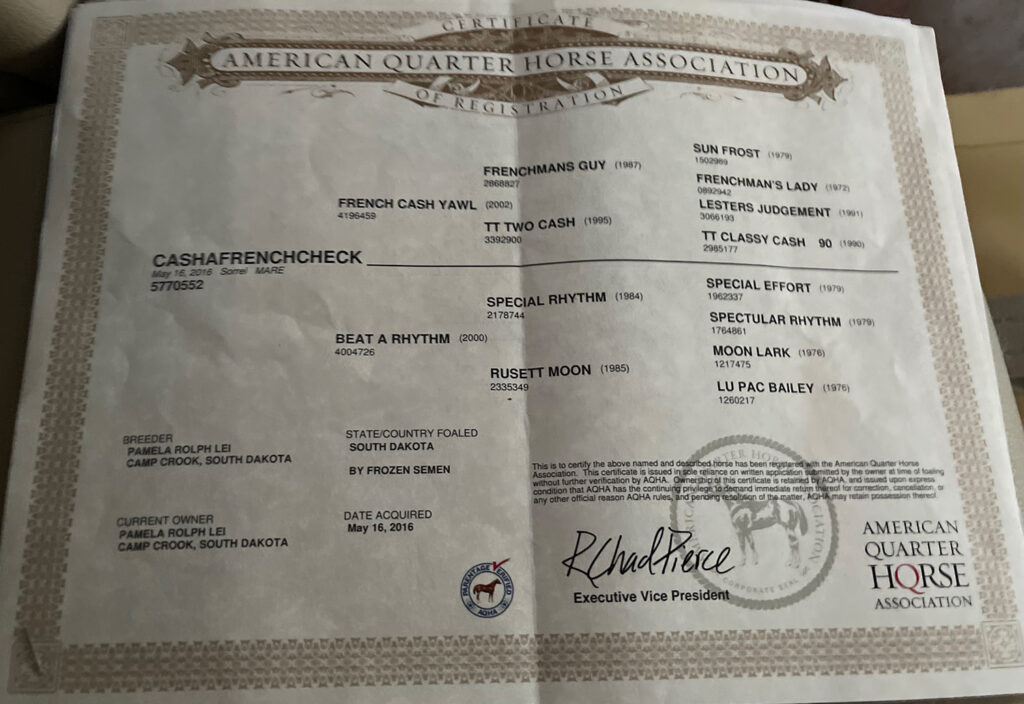 Checks is currently not for sale. Checks is bred BP Phoenix Reign for a Spring 2023 baby!
Checks is by French Cash Yawl who won an excess of $40,000 in barrel racing earnings during his career and out of a 1D barrel racing mare. She has seen a lot of miles on the ranch and has drug calves to the fire. Also roped calves and yearlings out in the pasture. She has been used to sort pairs, sorted in the corral, and pushed cattle down the chute. She has a good handle and is light in the mouth. Checks was started out by Jared Lei and used on their ranch Lei Quarter Horses.
Checks is started on the barrels, poles, and all the game events. She has mastered candy bar race! (Speed dash with a candy on the barrel for her rider).
She has placed in the 2D with limited showing as she was bred in 2022 for an early Spring 2023 baby. She did bleed once, so I stopped running her while pregnant. Once the baby is out and doing well, we will start riding Checks again.
By FRENCH CASH YAWL (2002). $42,114: Sire of FRENCH DYNAmite (4th NBHA Shamrock Showdown Super Show Barrel Racing Open 4D class). Son of FRENCHMANS GUY,Barrel Racing money-earner, QData #2 All-Time Leading Sire of Barrel Racing & Speed Event money-earners; an AQHA Top 25 All-Time Sire of Barrel Racing Point-Earners. Sire of 963 money-earners, $11,115,515.
1st dam
Beat A Rhythm, Special Rhythm. Dam of no performers.
2nd dam
Rusett Moon SI 80, by Moon Lark. 2 wins to 3. Dam of–
Moon Larks Bully (Draws A Crowd). Equi-Stat Barrel moneyearner.
3rd dam
Lu Pac Bailey SI 93, by Pacific Bailey. Winner to 4, $1,500, finalist
Indiana State Fair Futurity. Dam of–
Emma Lu Bailey SI 84 (Staunch Avenger). 4 wins to 4, $8,581,
2nd Darrell Rose Memorial 400 Futurity.
Intrepid Look SI 98 (Intrepid Man). 4 wins to 5, $6,177, finalist
Clasico Subasta [R].
Pac O Moon SI 87 (Moon Lark). 3 wins to 5, $2,135. svp 8/21
Luna our 7 month puppy leading Checks around:
July 5th First Time Checks went to Oasis and was 3D Champion!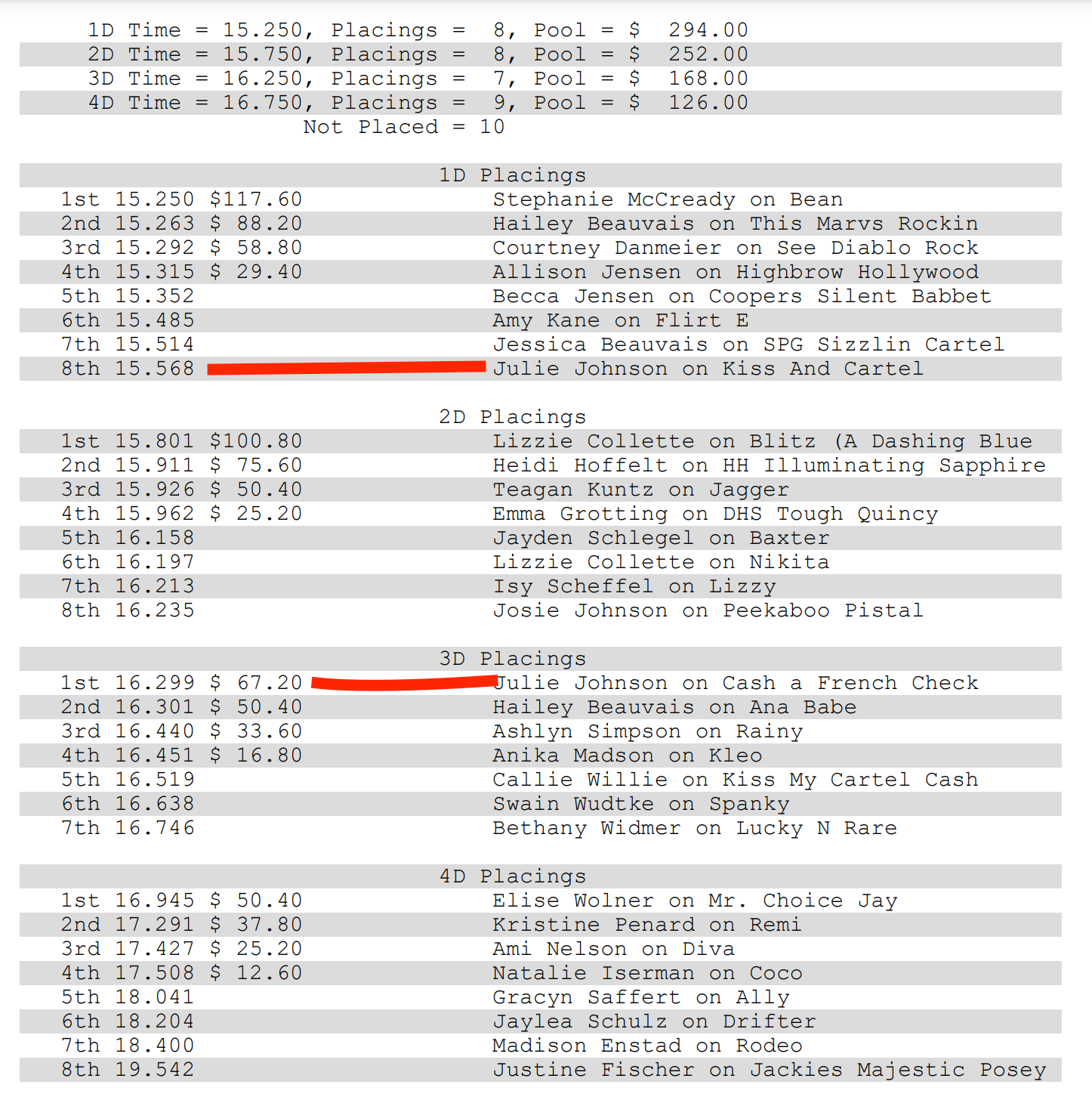 Would of could of been in the 1D – Barely got 3rd because I asked her to turn too fast: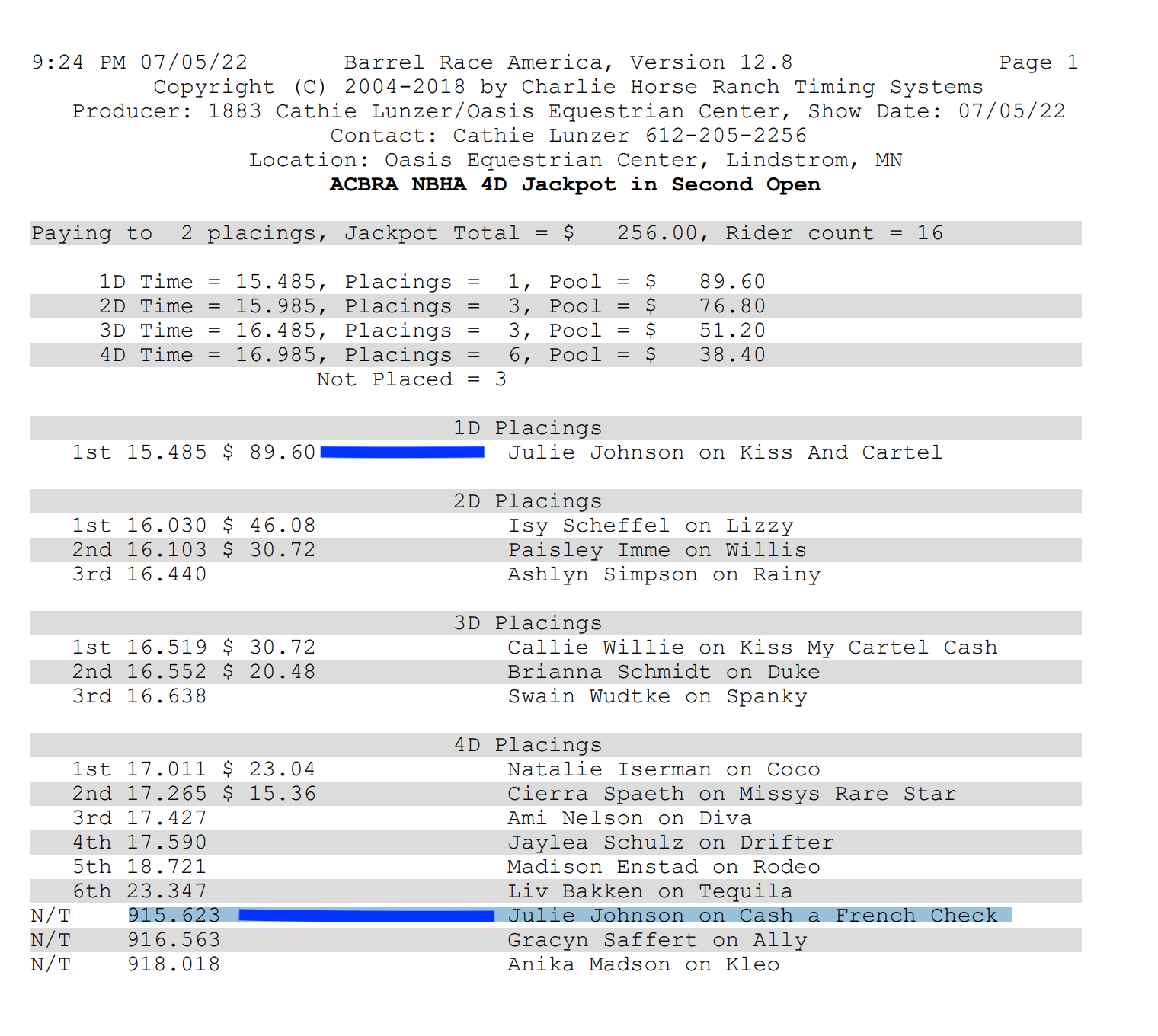 7/17 Speed Dash:

7/17 Key Race:

7/17 Pole Bending:

7/20 Barrel Racing at Oasis:

7/26 Barrel Race at Oasis:

8/7 Roping Practice – This was my first time roping in years