Rain – 2016 Grade Paint Mare $9,500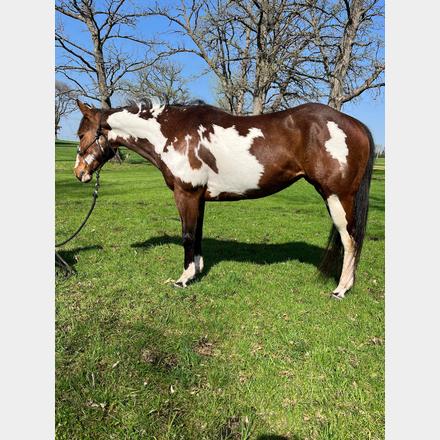 Rain is a beautiful 14.3 hand, 7 year old grade paint mare. She is so talented and athletic, plus has the brains to make a very competitive all-around mare. She has been trail ridden. She is a perfect prospect for a hunter jumper pony or WSCA game horse. Rain side passes, pivots, gives to the bit, two tracks, takes her leads, and is smooth to ride.  She has participated in two game shows so far. 100% sound. She gets along in the pasture, is easy to catch, respects all fences and is good for the vet and farrier. UTD on trims, vaccines, and coggins.
Not for beginners at this time as she does spook from somethings. An advanced rider rode her through the town parade with no problems.
Rain 2/20
Rain and Sierra Pole Bending 11/13
Rain and Sierra barrels 11/13
Rain and Sierra going through barrels 10/22
Rain and Julie's Barrels 7/17:

Rain and Julie Speed Dash 7/17:

7/17 Key Race:

Rain and Julie's first Jumping Figure 8:

7/17 Rain and Julie Jumping Figure 8:

Rain June Sales Video from previous owner:
Rain and Liberty's first ride together: